Thursday, May 10th, 2012
(Guardian) While the debate about the all-white casting on HBO's Girls has been garnering attention on the blogosphere, it's surprising there hasn't been a similar dialogue concerning the portrayal of Asian-Americans in US sitcoms.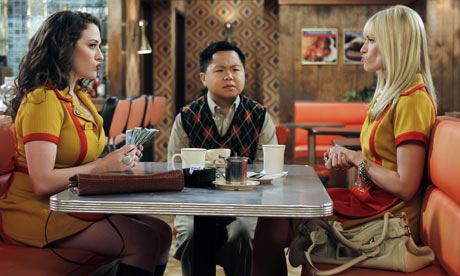 E4's latest aquisition, 2 Broke Girls, is the most problematic. Created bySex and the City's Michael Patrick King, it's the story of two white waitresses (Kat Dennings and Beth Behrs) who work in a Brooklyn restaurant whose boss is Asian-American Han Lee ( Matthew Moy). Short, asexual and work-obsessed, Lee is ridiculed for his broken English and failing to "get" US culture. In one episode Dennings' character says, after a run-in with Lee: "You can't tell an Asian he made a mistake. He'll go in back and throw himself on a sword."