Jon Ward: Republican Strategist Ed Gillespie Plans To Recruit 100 Hispanic State Legislature Candidates For 2012
(Huffington Post) The same Republican strategist who presciently focused his party's resources on winning state legislatures in the last election is now trying to patch up the party's relationship with Hispanic voters, with an eye toward saving the GOP from itself.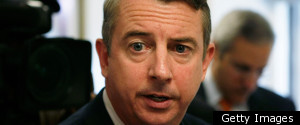 Ed Gillespie, the 48-year-old former White House adviser to President George W. Bush, announced Monday that he is spearheading an effort to recruit at least 100 Hispanic candidates to run for seats in state legislatures around the country in 2012.
"The demographics of America are changing, and any political party that fails to recognize that is going to find themselves consigned to minority status in the not too distant future," Gillespie said on a conference call with reporters.
The new effort will be run out of the Republican State Leadership Committee, where Gillespie took over as chairman in 2009. The RSLC raised $30 million in the 2010 election cycle, and RSLC president Chris Jankowski said the group will spend at least $3 million on the Hispanic recruitment project.
Tags: demographics, Ed Gillespie, GOP, latino, Republican, RSLC