Rick Perry's Record In Texas May Not Convince Latino Voters
(Huffington Post) It's official: Texas Governor Rick Perry has announced his candidacy for president of the United States, officially entering the race for the 2012 Republican nomination. The governor made his announcement Saturday at a conservative gathering in Charleston, S.C.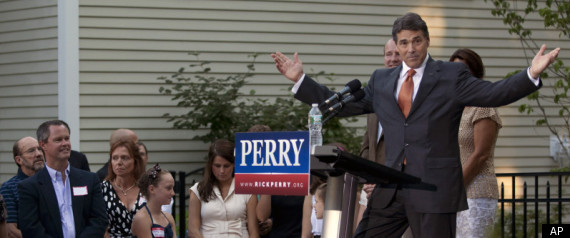 In his speech, Perry advocated for greater security along the U.S.-Mexico border and attacked the Obama Administration for failing to deliver promised jobs and economic growth. "That is not a recovery — that is an economic disaster," Perry said, referencing recent data that indicate 1 in 6 working-age citizens is unable to find full-time employment.
Perry said the most urgent priority for the country is to revitalize the economy, emphasizing, "It's time to get America working again." He criticized President Obama directly, saying the president has been responsible "for downgrading American jobs, downgrading our standing in the world, downgrading our financial stability, downgrading confidence and downgrading the hope of a better future for our children."
In the speech, Perry — who has held his post for 11 years, the most served by any sitting governor and the most by any governor of Texas — spoke of his childhood as the son of cotton sharecroppers in the small town of Paint Creek, Texas, and invoked his religious faith as a grounding and guiding force in his life.
Tags: election, latino, Republican, Rick Perry, voters