Wednesday, May 15th, 2013
(Huffington Post) Jason Richwine, the co-author of aHeritage Foundation report on immigration who came under fire this week for arguing in his Harvard dissertation that Hispanic immigrants to the U.S. have substantially lower IQs than whites, resigned Friday.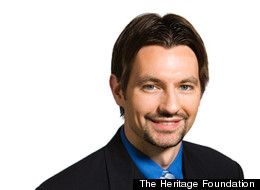 "Jason Richwine let us know he's decided to resign from his position. He's no longer employed by Heritage," spokesman Daniel Woltornist said in an email to HuffPost. "It is our long-standing policy not to discuss internal personnel matters."
The news was first reported by Slate's Dave Weigel.
The report put the cost of immigration reform at a whopping $6.3 trillion. Though Heritage's 2007 report was one of the reasons an earlier immigration bill failed, the 2013 report was widely mocked, even by Republicans the foundation hoped would support it.
Harvard accepted Richwine's 2009 dissertation for a doctorate in public policy. In it, he spoke of the "growing Hispanic underclass."