Monday, November 19th, 2012
(Huffington Post) If last week's election outcome stunned Mitt Romney's campaign and converted some Republicans to the orthodoxy of urgent and comprehensive immigration reform, then a Pew Hispanic Center report released Wednesday may spin the political world off its axis.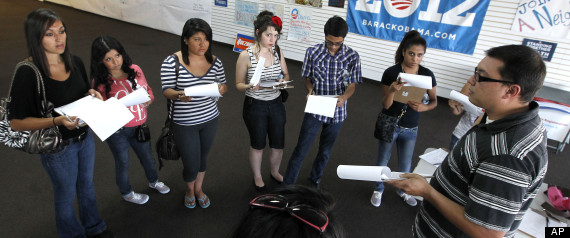 In the next two decades, a convergence of social and demographic trends will nearly double the number of Latinos who are eligible to vote, from 23.7 million today to about 40 million by 2032, according to the Pew report. In 2012, Latinos comprised 11 percent of the electorate. They will make up 16 percent of eligible voters by 2032, the report said.
Latino voters already are the fastest-growing portion of the electorate and cast 10 percent of all the ballots in the presidential election. The Pew report shows Latinos will be an indisputable key to the White House, several state capitols and thousands of local councils and school boards. Such a dramatic shift in the American electorate -– the adults who are eligible to register and vote -– could force new political alliances, policy priorities and alter who wins public office.