Sunday, October 3rd, 2010
(Bleacher Report) It's been a scramble for black quarterbacks in the NFL, but the light at the end of the end zone is visible.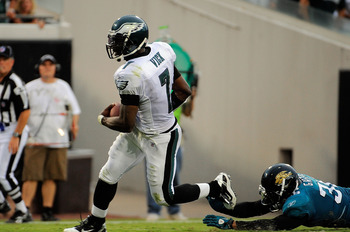 The term "black quarterback" has become an enigma in the National Football League.
In 1946, the year before Jackie Robinson broke the color line in pro baseball, pro football legend Paul Brown signed an undrafted RB named Marion Motley to play for the Cleveland Browns.
Motley broke the color line in American professional sports with his signing.
Twenty-two years later, the color line was broken in the professional quarterback position when the American Football League's Denver Broncos made rookie Marlin Briscoe a starter in 1968.