Friday, October 4th, 2013
(Guardian) North Carolina's Republican governor has pledged to fight a lawsuit filed by the Department of Justice in response to a measure that introduces some of the most stringent voting laws in the country.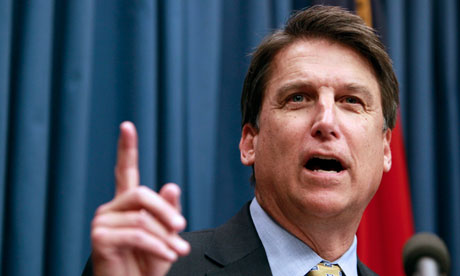 Governor Pat McCrory said that the lawsuit, which warns that the new restrictions are intentionally designed to set the clock back by discouraging African Americans from exerting their democratic rights, is without merit.
The lawsuit, lodged with a federal district court in North Carolina on Monday, calls for four key provisions of the state's new legislation to be blocked on grounds that they would have a discriminatory effect on minority voters. It also calls for the state to be put back into a form of federal oversight – or "pre-clearance" – that was removed in June when the US supreme court struck down elements of the Voting Rights Act that had been a cornerstone of race relations in the US since 1965.
Announcing the legal challenge, the attorney general Eric Holder said that allowing North Carolina's new restrictions to stand would be "inconsistent with our ideals as a nation … This is an intentional attempt to break a system that was working; it defies common sense."